Zombies starts out strong. Detective Sommers, played by Tony Todd, is in the besieged police station, and is freeing any prisoners who can still fight. One of the few survivors is Luke, played by Steven Luke, who turns out to be quite the bad*ss with a few machetes, as well as a true romantic at heart.
The premise is basic, and works well. The zombie virus has spread, and the few survivors need to band together to continue to survive. This is where Luke becomes the main character in the movie. He's able to survive out in the zombie invested streets while also bringing back other survivors, and apparently searching for the girl, Bena, played by Raina Hein, who he went on a few dates with.
The love story wouldn't really be so bad, but the dialogue was just so poorly written you can't really do anything but shake your head in amazement that it somehow get past script edits. When you mixed that with the poor acting from Steven Luke, who is just really wooden, and Tony Todd's overacting, and the movie turns into a little parody of itself. Raina Hein was a breath of fresh air.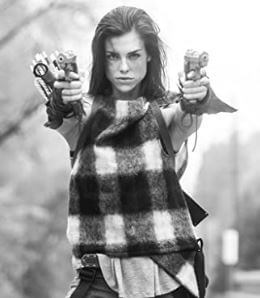 Raina kicked ass as a female who knows how to survive the apocalypse, and her acting was one of the few things that made the end of the movie watchable.
This could have been an awesome zombie cult hit. They really only needed to get a male lead who could carry the role, not ask Tony Todd to be so over the top – which I think was the directors input. I've seen Tony Todd in a lot of other movies and I think he is a great actor, so the only thing I can deduce is that he was told to be over the top for this role. The last thing would have been to change the love story around a little, but I won't spoil the ending, and this does qualify as a Rainy Day Movie, so it is worth watching on some rainy day.
The number of zombies was awesome, and there are some genuinely good moments when Luke faces off against a school bus full of kids, or gets surrounded by a horde. The director did an awesome job of putting zombie hordes, in, which is rescued this movie, and put it into that Rainy Day score range.
Having said that, the special effects budget must have been limited. They use a few strategic camera angles to minimize how often they have to show muzzle flashes or lots of zombies getting mowed down, instead they just show some splashes of blood, which tells me they didn't have the funding to do the actual shot. That extends to several shooting scenes where the actors must have been told to make the "weapon" kick as they weren't showing muzzles, and they wanted to still show that the actor was shooting.
This could have been an awesome movie, it just didn't fire on all cylinders, which scored it a 37/100, putting it safely into the Rainy Day Movie category.