The opening of Zombie Warz: Falls The Shadow sounds like a Trump Rally. It is just horrible, racist, and homophobic, and almost made me turn the movie off. I guess it helped set the tone of the movie, but it was pretty foul and over the top.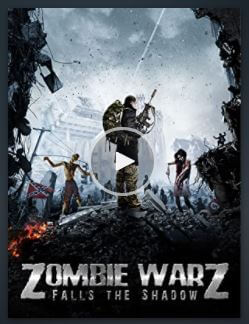 Zombie Warz: Falls The Shadow is a low budget film, but it does a good job with what budget they had. The basic plot is about soldier who comes home after the world has been destroyed by war, and Zombies have risen from the ashes, to find his wife has been murdered, and his daughter kidnapped. What choice does the man have but to go after his daughter?
This plot merges with two other stories. One about a woman and her son who gets bitten (but doesn't turn), and another about a wanderer who just happens upon a hot girl who falls in love with him because he didn't try to rape or eat her. This leads to a short scene of her topless which didn't really add anything to the movie, but hey, there were boobs.
Zombie Warz: Falls The Shadow Scoring
Let's start with the overall score. I'm giving Zombie Warz: Falls The Shadow a 45/100, putting it firmly in Rainy Day Movie territory, which was perfect because it was rainy and dreary as I watched it. The main issue with the movie was the dialogue, which was cringey at times, and just bad at others. Some of the action also reminded me of a bad Steven Segal parody. The other thing that cost this movie points was the way the main characters all seem so nice. Zombies are eating people, and the world is brutal, but when faced with a decision to risk it all for people they don't know, of course all the good guys band together. The altruism felt out of place when everything else in the world was to brutally portrayed.