The description of Zombies Have Fallen makes it sound like this is going to be an awesome move:
A young woman who possesses the supernatural powers and visions of an upcoming apocalypse is aided by a retired bounty hunter who must protect her from those who wish to use her abilities for evil.

Sam Fountayne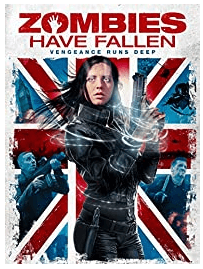 So I was a little disappointed when the movie started playing and it really had nothing to do with zombies. The acting is not that good, the dialogue is mostly silly, and the special effects are atrocious. There is a fight sequence in the woods where the girl just waves her hands and the bad guys with guns just kind of flop on the ground.
After being astounded by how bad this movie is I did a little web searching. Per the internet this movie was made for about 500 Stirling pounds. That is just under $622 US.

That budget makes the movie make a lot more sense. This is a very small budget film if those numbers are accurate. Based on watching the movie, the numbers do seem real to me. I'm not trying to be hyper critical, I'm just being honest.
Zombies Have Fallen Scoring
I watched this movie so you didn't have to. It was truly "Just Bad" and scored a 1/100. On the plus side, I hope the people who worked on it learned something from the experience. Why? Because I hope that will make their future projects better!

See the one thousand items you need to survive the Apocalypse!