For the life of me I couldn't find The Day of the Living Dead. According to Prime it came out in 2021.

Surprise, surprise, it was originally released in 2014 as Lazarus: Apocalypse. If you read my Zombie Movie Reviews, you know this isn't a good sign. Because anytime I see a name change for re-release, I get worried. Why else do it? The main reason I see is that the producer is trying to put a flower on a cow pie.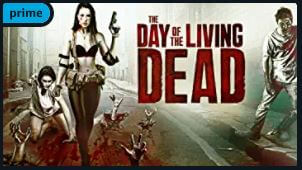 Spoilers Below:
So, how was The Day of the Living Dead? It feels like a homage to a mix of movie genres, including some adult ones. The film is shot in black and white and harkens back to 1950 detective movies and film noire. There are a few color shots here and there – and you guessed it, those that have some blood in them. Mixed in are several nude shots, mostly waist up save for one blurry full frontal.
It is hard to watch. Both because the violence is overdone and because the audio will make you want to turn off your speakers. Go watch this scene around the 22 minute mark and let me know if the audio doesn't make your ears bleed.
We then move onto the strange BDSM scene. It's not strange because I have anything against BDSM. It's strange because it doesn't add anything to the movie. It does not play any part in the plot, and felt like it was randomly thrown in. If it was added for shock value all it did was distract from the Zombie parts of the movie.
The Day of the Living Dead bills itself as a detective/Zombie Movie but its really more of a drama with a few zombies thrown in for fun. Or maybe to try and profit off the Zombie craze that was sweeping media back in 2014 when this was made.
Lazarus: Apocalypse Scoring
Because it was a letdown on so many levels, Lazarus: Apocalypse (The Day of the Living Dead) scored a 23/100. The focus wasn't on the Zombies or the Apocalypse, and when you add in the not so great story, dialogue, and audio, you are going to put yourself in the Just Bad territory.
Finally, I suggest Cockneys Vs. Zombies if you are looking for something a little off the beaten path.