The End? is an Italian language Zombie Horror film with a straight forward premise:
Claudio Verona is a young and cynical businessman. One day he gets locked in his office elevator before an important meeting with a client, and this annoying obstacle turns into a nightmare. For outside that metal cage, a deadly virus has begun to infect and transform people into extremely violent and dangerous zombies.

Rai Cinema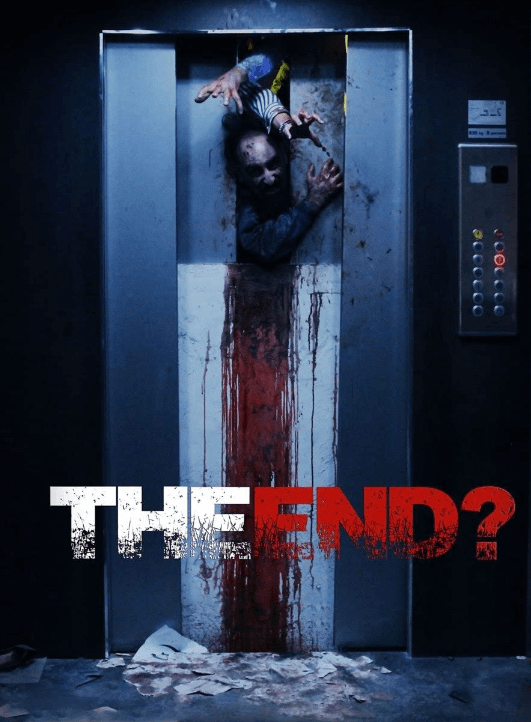 Spoilers Below
Claudio is a shmuck. The End? makes that very clear in the first fifteen minutes. Claudio is a high powered businessman and an ass. Claudio cheats on his wife. He treats the working class people around him horribly. When Claudio finds himself stuck in an elevator while the Zombie horde rages through the building it does seem like a bit of karma.
The action takes a little while to get going. Thankfully the action starts around the 22:30 minute mark.
Marta finds Claudio. Claudio is hopefull he might be saved, at least until Marta gets dragged off screen. The Zombies are in the building! This quickly leads to the sub story of Claudio's wife who is at home as someone bangs at her door.
Claudio then loses his cool. He screams and yells in panic. While I get that Claudio would be scared out of his mind, I don't get screaming and yelling while there are Zombies trying to eat you just outside the elevator. Maybe try to draw less attention to yourself? Even worse, try not to turn your back on the opening to take a call.
At this point there is a good bit of gore, but there is also still an hour left in the movie and I'm curious how the next sixty minutes are going to play out. I am happy to see Claudio finally learned a lesson when he sees another survivor, and instead of screaming does a bit of whispering instead.
Several other survivors come, go. The zombies make quick work of them before a police officer shows up and gives Claudio some real hope – and a gun.
With a bit of help from his new fellow survivor Claudio eventually makes it out of the elevator. The city has been overrun, but there are still survivors. The ending was good, and avoided one major trope, which gave it points in my book.
The End? Scoring
So how did it do overall? The End? scores a 64/100, putting it at the higher end of the "Rainy Day Movie" scale. What cost it points? The End? didn't really break any new ground, but the special effects were good and the acting was above par. The movie is in Italian, so it is subtitled, but it is still worth watching.